Boutique Edinburgh hotel plans face revision
January 4 2012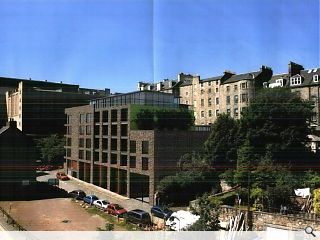 Lapsed 2008 plans promoted by Fitzpatrick Design Hotels for a 166 bed four star hotel at Baxter's Place, Edinburgh (adjacent to the Playhouse Theatre) may be superceded by alternate proposals for either a three star or budget hotel.
The change in emphasis comes as agents Jones Lang LaSalle acknowledge the changed market conditions since the original submission was made – although the four star option may still be pursued.
The scheme will entail refurbishment of three Georgian townhouses alongside demolition of a 1970s office block to the rear, which will make way for a modern extension.
3DReid Architects are behind the currently approved scheme, penning a design which accommodates garden terraces with panoramic views across to Calton Hill.
In a statement Jones Lang LaSalle said: "Planning permission has been successfully obtained to develop a 166 bedroom four star hotel with a 8,126sq/m gross internal area.
"However, the final design may be tailored to an investor's and operator's specific requirements. As such the vendor has designed alternative scenarios for a 230 bedroom three star hotel and a 269 bedroom budget hotel."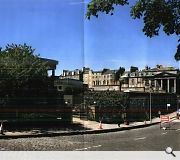 A low quality seventies scheme would make way for the extension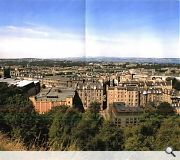 Baxter's Place occupies a prominent spot overlooking Calton Hill
Back to January 2012