Hoskins submits amended Otago Lane proposals
November 29 2011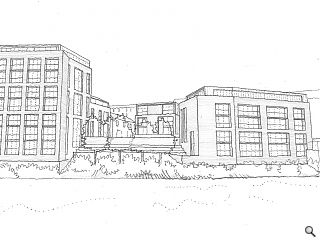 Gareth Hoskins Architects have submitted amended proposals for the controversial redevelopment of a Glasgow lane.
Otago Lane in the city's west end has been subject to a number of
residential led applications
in recent years to provide a design solution compatible with the Hillhead area.
The latest proposals have seen Hoskins rework designs by the ID Partnership to craft a proposal which campaigners operating under the '
Help Save Otago Lane!
' might be swayed by.
A number of red brick blocks are proposed for the development, including a three storey terrace of townhouses alongside Otago Lane with more substantial blocks fronting the river Kelvin.
In their design statement the practice state: "The top storey of the flats are recessed back from the main façade and materially expressed as part of the roof."
Townhouses will have timber clad infill screens and recessed balconies to "create variation and richness into the façade" and a living green roof planted with sedum is planned to boost biodiversity.
Hoskins told Urban Realm: "We have been appointed to produce the revised designs which seem to have been well received by Planning and the GUDP.
"One of the new elements has been increased in height in order to tie in with the scale of the adjacent tenemental block, otherwise, we have actually reduced the scale of blocks to give a better relationship to the river and mews."
David Narro Associates are acting as structural engineer.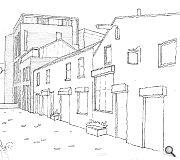 Campaigners believe the use of zinc cladding is out of keeping with the conservation area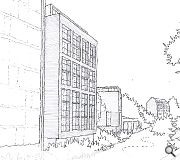 One block has been increased in scale to better reflect an adjacent tenemental block. Others have been reduced in scale to open up views of the river
Back to November 2011