Swansea Maggie's centre set for Dec 9 opening
November 25 2011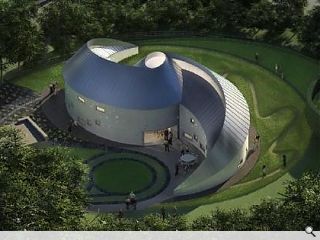 Maggie's Cancer Caring Centres have announced that their latest care centre will open on December 9 at the Singleton Hospital, Swansea.
It will be the
tenth Maggie's Centre
to be built in the UK, part of a UK wide initiative to help people through the emotional and practical issues of a cancer diagnosis.
Initially designed by Japanese architect Dr Kisho Kurokawa (who sadly died in October 2007), the scheme has been taken to completion by executive architects Thore Garbers and Wendy.
Kurokawa, a friend of Maggie Keswick Jencks, based his design on the concept of a 'cosmic whirlpool', representing 'everlasting forces swirling around a still centre.'
Spiral sections of the building reference alternate segments of earth and water separated by shafts of light.
The late Dr Kisho Kurokawa said: "The new Maggie's Centre will come out of the earth and swing around with two arms like a rotating galaxy. One side will welcome the visitor and lead to the other side, which embraces nature, the trees, rocks and water. A place set apart, as Maggie said of a garden. The connection to the cosmos and contacts between East and West – two motives that Maggie and I shared – are in the design. I hope she would have liked it."
Back to November 2011