Occupy Glasgow protestors decamp to Kelvingrove
November 6 2011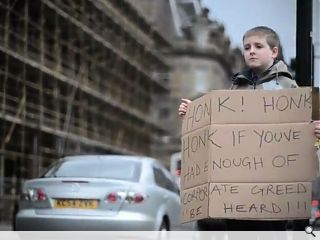 A tent city which had sprung up on Glasgow's civic heart, George Square, has been relocated to the greener pastures of Kelvingrove Park.
Protesters had been camped outside the city chambers in a show of solidarity with campaigners in London who had pitched up unannounced in front of St Paul's Cathedral.
Since October 15 this has seen the unhappy campers establish a makeshift camp on the traffic choked square as part of a publicity driven "anti greed" initiative.
They were forced to move however when council officers served them with an order to vacate the Square by Monday to facilitate the observance of a Remembrance Day ceremony.
Back to November 2011