Permission sought for Kelburn Castle mural to be made permanent
August 29 2011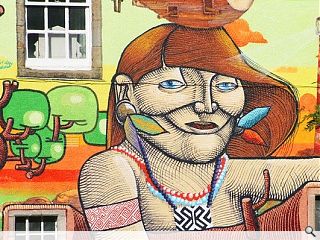 The Earl of Glasgow, Patrick Boyle, has written to Historic Scotland to seek guidance on whether the heritage quango would object to a dramatic piece of wall art adorning the façade of his home being made into a permanent exhibition.
Boyle's son and daughter oversaw commission of the bold piece of graffiti art back in 2007, expelling some 1,500 cans of spray paint to create the psychedelic composition.
However permission to deface the A listed 13th Century Castle was given by North Ayrshire Council only on the understanding that the £20k artwork would be a temporary installation.
This was expected to expire in 2010 alongside work to replace harling render on one of the castle's turrets.
The mural has acquired some high profile backers since its creation, including support from the author and designer Tristan Manco who named the piece as one of the top 10 examples of global street art.
If Historic Scotland prove to be amenable Boyle is expected to file an application to the local authority to make the piece a permanent feature on the Clyde coast.
Back to August 2011