Piers Gough's new hairdressing HQ is bound to turn a few heads
|
Send to friend
September 20 2004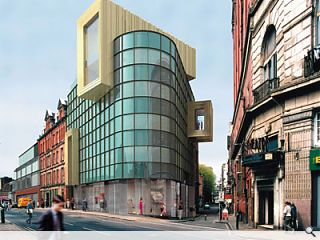 Piers Gough's London-based firm CZWG Architects has produced an 'off-the-wall' design for a £4m hairdressing salon at the heart of the Liverpool Paradise Street redevelopment.
On a prominent site at the corner of Hanover Street and School Lane, the scheme will form a new headquarters and salon school for renowned hairdresser Herbert Lowe, who owns Herbert's of Liverpool.
The building will sit between two Edwardian structures, the Crane Building and the Abney Building. Work will start on site in early 2005 and construction is expected to take around a year. The new building will replace Herbert Lowe\'s existing salon and school in Paradise Street.
Rod Holmes, project director at Grosvenor Developments, in charge of the Paradise Street scheme, said: \"We wanted a building on what is a small site to act as a gateway into the area. Piers has come up with something that is fantastically exciting. People are already referring to it as the \'Bling Bling\' building."
Back to September 2004