RMJM commence work on Newcastle College campus
August 19 2011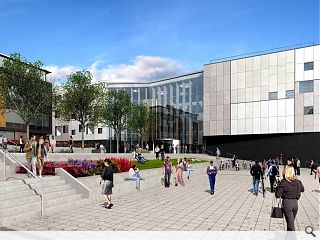 RMJM have moved on site of a sixth form college campus for Newcastle College.
The city centre campus will be denoted by an 11,000sq/m signature building for pursuit of advanced practical and academic study for its 2,000 students.
A range of cellular classrooms, staffrooms and laboratories will be accommodated along a snaking 'S' shaped hallway, denoted by a café at one end and an entrance plaza at the other.
Conor Pittman, RMJM's Scottish studio director, said: The new college will be a fantastic facility for learning. This is one of a number of educational projects which our studio is currently involved in."
Part of the College's £250m campus investment plan, the school will take its place alongside the landmark performance Academy and Lifestyle Academy as part of an overall vision to form a series of schools each with their own individual identities.
Designed for students between the ages of 16 and 19 the new campus is set to open its doors in time for the 2013 academic year.
A vertical hub defines the centre of the building - offering opportunities for learning outside of the classroom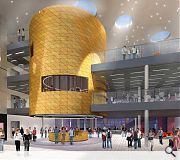 Every classroom in the facility will sport a custom "picture window".
Back to August 2011