VIDEO: ERZ's Rolf Roscher explains his concrete garden concept
June 14 2011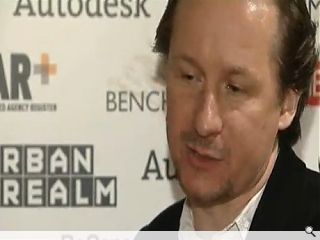 ERZ founder Rolf Roscher has spoken to Urban Realm to explain the innovative concept behind his practice's concrete garden in the Possil area of Glasgow.
Rosher said: "The concrete garden is part of a wider program of community growing spaces, a strategy called Sow and Grow everywhere. It's the first of those to be built in a small derelict space on a concrete surface and incorporates growing beds, shelters and spaces for the community to grow vegetables.
"In terms of the food growing strategy Glasgow has the unfortunate position of having male life expectancies the equivalent of Ethiopoia. In that context, particularly in neighbourhoods like Possil, the opportunity to impact on that is pretty significant. In terms of all the projects that we're involved in the area in community food growing the level of interest in Glasgow is massive. They want to do this, they're excited by it."
Back to June 2011