Allies & Morrison's Robert Maxwell lauds Kingsland Primary
May 20 2011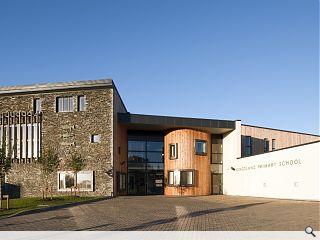 Urban Realm grabbed SDA judge Robert Maxwell, partner in the architectural firm Allies and Morrison, for a brief chat to find out why Archial's Kingsland Primary School stood out so much in this year's education category.
Here, in his own words, Maxwell explains what makes this school sing: "In this category there are very often schools which are angular, sharp, brightly coloured, with a lot of metal cladding and it seems in the education sector that that is the type of architectural design that we've come to expect.
"What I liked about Kingsland Primary School is that it feels more grounded, it uses local stone, it produces a really nice sense of street with classrooms off it giving a nice sense of perspective and a sense of grounding the building in the landscape.
"For younger kids in education where they're taught is a hugely important memory that they'll take with them through their lives and I think in this case the architecture has helped to produce a place and a space which is something that they will cherish."
Kingsland Primary School topped the education category at this year's Scottish Design Awards.
Back to May 2011