Keppie's Royal Victoria Hospital reaches external completion
May 17 2011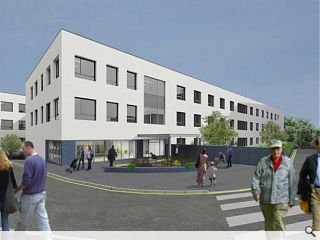 External work on Keppie's £43.6m Royal Victoria Building has been completed with the pouring of the last section of concrete.
Built for NHS Lothian the hospital has been designed specially to meet the needs of elderly, rheumatology, and dermatology patients and will include in-patient services as well as a medical day hospital.
Dr Charles Winstanley, Chairman, NHS Lothian, said: "Completing the exterior shell of the building is a key stage in the creation of this new purpose-built facility.
"Once completed next year, the Royal Victoria Building will become one of our flagship hospital buildings and will be the first of its kind in Scotland to provide single rooms for patients."
The purpose-built facility is due to be completed in 2012.
Back to May 2011