Simpson appointed on ATS site
|
Send to friend
October 15 2004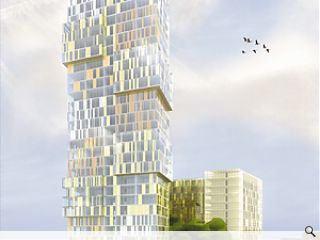 Ian Simpson Architects has been commissioned to design a £30m development site, formerly the location of ATS, for Liverpool-based developer, Downing Developments, following a competitive interview and design competition organised in conjunction with Manchester City Council.
The site lies just inside the Mancunian Way ring road and is bounded by Wilmot Street, Newcastle Street and Chester Road. The scheme will provide two levels of flexible office space, student bedrooms, and key worker or studio apartments. A raised garden will be created between the two buildings at the level of the elevated Mancunian Way, providing an amenity for residents and creating a green marker for passing vehicles.
Two buildings, one high rise and one medium rise, will be located above an elevated landscaped podium. A 135,000 sq ft 30 storey tower will provide 300 key worker apartments and a 100,000 sq ft building medium rise element will provide 350 student bedrooms organized in clusters of 6 around a communal space.
Materials, such as bronze alloys and copper, are introduced into the skin to reinforce the form of the buildings and enrich the surface texture.
Six two storey commercial units are arranged at the edge of the podium, providing office and retail space around three levels of car parking. The planning application should be submitted to Manchester City Council by the end of the year.
Back to October 2004