Denny residents prepare for Parliamentary debate over Carbuncle
March 15 2011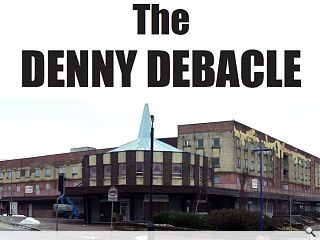 The continued prevarication over demolition of a contentious eyesore block within Denny, near Falkirk, is to be the subject of a debate in the Scottish Parliament tomorrow at 12:30.
The latest debate stems from £140k worth of repair work carried out on the dilapidated block, a source of blight on the town centre for decades.
Far from being chuffed by the remediation work however locals are up in arms at what they see as a cack handed and notched operation.
Citing damage to the buildings canopy local campaigner Brian McCabe lashed out at the local council saying: "The "Health & Safety" repairs recently carried out by Falkirk Council have put the community more at risk than ever.
"Rather than roost in the empty apartment blocks above the shops, the pigeons have now identified a superior level of accommodation created by the Council, and now roost in the voids in the underside of the canopy, where they have easy accessible toilet facilities which allows them to shit on the people below."
The parliamentary motion has been brought forward by Michael Mattheson, SNP MSP for Denny & Dunipace.
It follows the conclusion of a recent design competition organised by Urban Realm, following the town's request (a first for the award) to take possession of the Plook on the Plinth.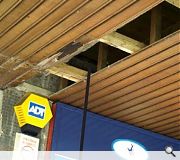 Residents want to see the Church Walk blocks demolished as soon as possible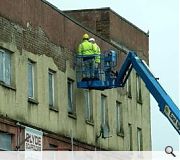 The blocks have become a health hazard after becoming infested with flocks of pigeons
Back to March 2011