Window on the Mac unveiled
|
Send to friend
October 15 2004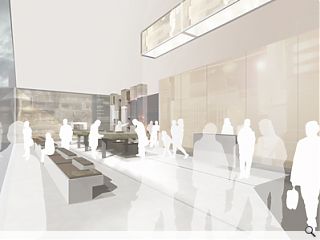 McGurn Architects has unveiled its initial concepts for a tour reception at the Glasgow School of Art on the north side of Renfrew Street.
The project, which at this point is purely theoretical, could become reality in the future if the School of Art secures funding to redevelop its campus.
The School of Art's review of their real estate hopes to consolidate the campus around a smaller core, with new build elements planned as well as refurbishment, so that old and unsuitable buildings located further away from the main Renfrew Street core would no longer need to be used. An application has been made to the Heritage Lottery Fund application for the refurbishment of the Mackintosh building.
"At the moment, the Art School lacks a place to start its guided tours from, and there is really nowhere for visitors to take a good photo of the Mackintosh building," explained Nick Blair of McGurns, who are in the process of merging with Zoo Architects to form ZM Architects. The reception, which would accommodate around 80 people, will have three main elements – bench seating, a table and a glazed screen from which to view the Mackintosh building.
Back to October 2004