Centre for Cities publishes Cities Outlook 2011
March 1 2011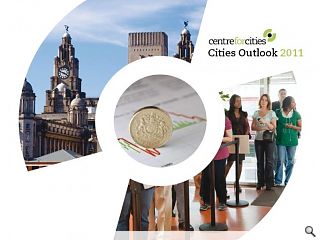 Centre for Cities, an independent charity promoting the improvement of UK cities economic performance, has published its
2011 outlook
– and it makes for some grim reading.
Weighing up the effects of impending spending cuts the report observes that "The total welfare bill in some cities is equivalent to more than one quarter the size of their total economic output."
With the coalition government pledged to slash £18bn from the 2014/15 welfare budget the report attempts to ascertain what this will mean for key cities, notably Glasgow where at present 22% of all economic output is composed of welfare payments ( Edinburgh fares rather better at 14%).
The report finds that amongst Great Britain's major cities Glasgow will be the second most affected by the cuts, which are projected to cost every resident in the city £175 (behind only Liverpool which will see £192 of wealth removed per citizen).
Edinburgh, by contrast, will be the least affected (alongside Leeds and Bristol), with projected cuts amounting to £125 per resident.
Population projections make for similarly depressing reading with the report noting: "Dundee experienced the highest negative annual growth rate in the period between 1999 and 2009" after the city lost 4,600 souls in the period. Glasgow lost more people in the period, 5,800, but this reflected a smaller proportion of its larger total population.
One bright spot came from Aberdeen, the only northern city to make it into the top ten for the highest number of businesses per 10,000 population, it weighed in at number 8 with a business stock of 341.2 (London ranked first with 445.7).
Aberdeen also had one of the highest employment rates in the UK between 2009/10 at 78.5%.
Back to March 2011