Argyll Arcade refurbishment completes
February 28 2011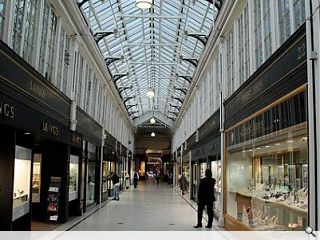 Long regarded as something of a diamond in the rough Scotland's oldest shopping mall is now glistening again following a £750,000 restoration effort.
It may be best known today for its jewellery but Glasgow's Argyll Arcade began it's life, believe it or not, as a timber merchant until 1827 whereupon an enterprising businessman, inspired by visits to Paris and London, elected to build one of the earliest examples of an enclosed mall in the UK.
The L shaped hall was designed by John Baird and employed an innovative use of cast iron and glass to shuttle shoppers past assorted temptations untrammelled by the elements.
Now Jones Lang LaSalle, the buildings property managers, working alongside the Glasgow City Heritage Trust to replace faulty guttering, carry out structural repairs and peel back 15 separate layers of paint.
This laborious exercise has made the structure safe and water tight but also revealed the "leaf green", gold and "light ivory" colour scheme of the Arcade in its original guise - alongside previously hidden cast iron 'fish scale' sculptures.
Incredibly the original manufacturer of the malls set piece gaslights was found to be still in business and was able to craft a 21st century interpretation of the originals.
Image taken ny Jordanhill School
Back to February 2011