Glasgow Airport expands passenger facilities
February 2 2011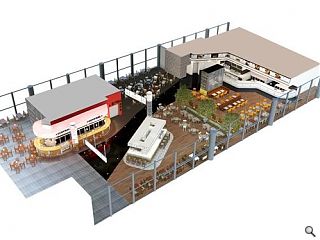 A £1.5m project to transform Glasgow Airport's refreshment facilities is to begin presently.
Delaware North Companies has been commissioned by the terminal operator, BAA, to create a new first floor food hall and a café to augment the landside facilities at the terminal.
Three restaurants will be provided in the food hall, including a sports bar and grill, which will display major sporting events alongside an American themed venue.
This will be joined by a deli and a buffet-style restaurant with a large open view kitchen and traditional fare.
A café bar will also be introduced in the international arrivals hall serving a range of snacks and beverages.
The announcement comes as Archial draw up plans to reveal the historic Basil Spence façade of the original terminal, now ensconced within later additions.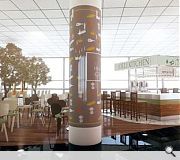 An open plan deli kitchen will offer fresh produce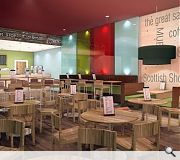 The new facilities are designed to enhance the visitor experience - and raise revenue
Back to February 2011