Bridgeton Cross redevelopment to commence
January 26 2011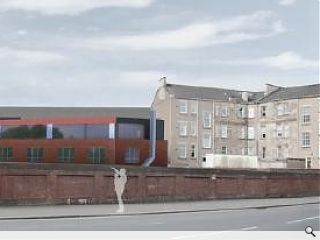 Collective Architecture, in partnership with Clyde Gateway, has begun the refurbishment of Bridgeton Business Centre, a retail building in Glasgow's east end which has lain derelict for more than 20 years.
Existing vacant retail space will be refurbished to provide 1,650m2 of affordable office space for small businesses, a row of ground floor shop units will be retained.
Retaining the structure and form of the existing buildings the rear façade will be animated by a self coloured render graphic mural by Toby Paterson whilst the concrete frame is faced with lightweight aluminium.
The spruce up is intended to both maintain continuity of local businesses and provide a much needed spruce up for a prominent east end eyesore as the Commonwealth Games approach.
Work is scheduled to start on the scheme in late February and complete in 2012.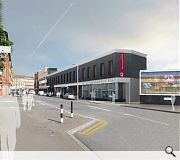 An external lighting scheme will lend after hours presence to the development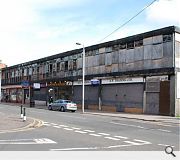 The existing structure presents an image at odds with that which Commonwealth games promoters wish to portray
Back to January 2011