Red Road laid bare
November 29 2010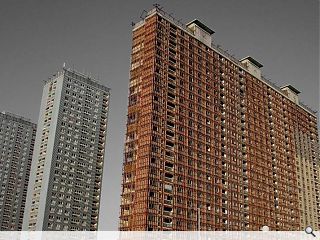 At just 41 years old they have only just reached middle age but Glasgow's most visible high rise housing estate is slowly being retired having been judged to have outlived its usefulness by Glasgow Housing Association.
Safedem Ltd is in process of stripping out cladding panels at 153-213 Petershill Drive and 10-30 Petershill Court, the two "slab" blocks on the estate.
Mast climbers have been installed to navigate the vertiginous heights of each block, removing asbestos cladding panels as they go.
It is a process which will culminate with the removal of all furniture, fixtures and fittings from the towers with nothing but their skeletal frames remaining.
A spectacular explosive denoument for Glasgow's biggest meccano set is planned shortly thereafter.
No official demolition date has yet been set.
Paul Stallan, RMJM's European design director, sent in these dramatic pics of the deconstruction process by way of his father, who helped build the blocks all those years ago.
Speaking of his snaps he said: "Seems like yesterday, as an eighteen year old, I travelled up the side of one of the tower blocks in a brickies' cage to check the reinforcement on the roof. No scaffolding!"
Glasgow's skyline is set for dramatic change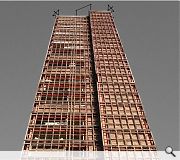 Red Road towers over its surroundings
Back to November 2010