Renfrew marine centre visions displayed despite opposition
|
Send to friend
November 19 2004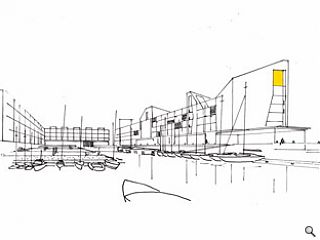 Plans for an international marine centre at the Clyde River Boatyard in Renfrew are being showcased in an exhibition of architectural visions at Renfrew Community Library. The exhibition shows how the historic buildings of the Clyde Navigation Trust, designed in 1905, could be integrated into a mixed-use riverside quarter, including an expanded Clyde River Boatyard as the focus of an international marine centre.
The exhibition was organised by the businesses and boat owners at the Clyde River Boatyard, to show how the skills and facilities which already exist could be developed. Some of Scotland's leading architects, including JM Architects and ZM Architecture, were invited to prepare sketch schemes to show how the Clyde Navigation Trust Works buildings could be brought back into use and integrated with residential development, Renfrew Town Centre and the River Clyde.
Renfrewshire Council's masterplan for the riverside would support these principles. However, the land is owned by developers who have stated that they have no intention of retaining the boatyard and are currently trying to evict businesses from the site. If this happens, the last historic link between Renfrew and its maritime past will be lost.
"The undermining of these small highly skilled businesses will have a long term detrimental effect on the marine industry in Scotland", said Bryan Collins, Managing Director of Silvers Marine Ltd in Rosneath. Richard Metcalfe, a boat owner from Bearsden agreed:"Once dissipated the craftsmen of the Clyde River Boatyard and their skills would be lost. Properly handled, the preservation and enhancement of the two yards, their slipways and associated equipment within the envisaged development would be an asset to the local area and the nation."
Back to November 2004