GHA fell Norfolk Court in latest tower block demolition
October 4 2010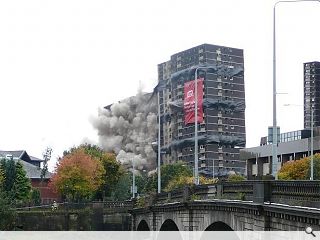 Norfolk Court, a 23 storey tower block in Glasgow's Gorbals district has been imploded by Safedem as part of ongoing regeneration efforts for the area.
Glasgow Housing Association, owners of the block, had decanted some 270 families to make way for a development of 200 homes.
The block lasted a mere 40 years after having been constructed in the early seventies, its demise ushered in by 3,000 separate explosive charges which reduced the flats to 20,000 tonnes of rubble in 10 seconds.
This detritus will be recycled in a four month clear up operation.
Back to October 2010