Doreen Lawrence speaks to Urban Realm
September 17 2010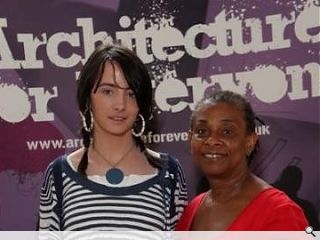 It has been ten years since Stephen Lawrence was stabbed to death in Eltham, south east London. The case helped to reshape the English criminal justice system but it may ultimately transform the architectural profession too.
Urban Realm caught up with Doreen Lawrence at the launch of 'Our Urban Playground', a showcase of the outcomes generated in the Architecture for Everyone campaign. Run by the Stephen Lawrence Charitable Trust and RMJM this aims to inspire young people from disadvantaged and minority backgrounds to consider architecture as a career.
Explaining her involvement in the project Lawrence said: "Stephen wanted to be an architect, that's what the trust was set up to do. Architecture for Everyone has taken architecture, not just in London but to Glasgow, Liverpool, Birmingham, Sheffield and Manchester too."
Commenting on a predominantly white, male and middle class profession Lawrence stressed that racism wasn't the root cause: "There is some racism in it but I wouldn't say that is the main cause. If you look at the environment young people come from they have no idea about the structures around them, how they are put up, who's involved and how they came about. What this program has done is bring architecture to them rather than hope that they'll come and find out more about it.
"Rather than have it done to you, you're a part of it. In the old regime they decided what's best for a community rather than the community having a say in the environment in which they live. By broadening it out everybody has a stake in the houses they want to live in, the offices they want to work in and the hospitals they want to be treated in."
Asked whether more direct measures, such as positive discrimination, were needed to effect change Lawrence said: "You can't go around saying you'll have positive discrimination unless you start introducing architecture to young people. The environment is changing and a lot more people understand architecture as a career that they want to get into.
"The funding we have only lasted for three years but I would like to see more governments and local authorities getting behind this work for it to continue, so that it's not just a three year project. Otherwise you're only going to have a blip rather than something that is sustainable."
'Our Urban Playground' runs on Level 2 of The Lighthouse until January 15 as part of the A+DS ACCESS to architecture exhibition programme.
Back to September 2010