Selfridges submit Trongate plans
Send to friend
* Required fields
|
Send to friend
June 8 2010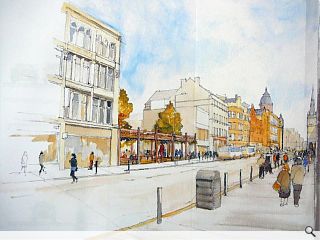 Selfridges have finally submitted a planning application in Glasgow... for a carpark.
Ash have been commissioned to design the £3m space, bounded by Trongate, Candleriggs, Hutcheson Street and Wilson Street which is mooted as being for the "short to medium term."
A temporary market, event space, pedestrian links, landscaping and an outdoor café are being investigated with revenue raising potential being explored through advertisement banners on the gable walls of buildings.
Public realm would be focussed on the Trongate where buildings, many of them listed, will be retained however an existing gap site will act as a main thoroughfare into the area which could feature a stretched fabric corner feature. Reclaimed stonework and railings would define the site boundary.
Selfridges had been planning a 200,000sq/ft store designed by Toyo Ito but this has fallen onto the backburner as the retail store pursues its online strategy.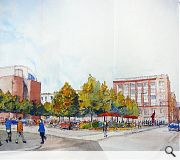 Existing buildings, some listed, will be levelled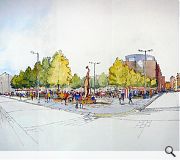 Merchant city parking will be well catered for
Back to June 2010