Opening the doors to 3DReid's Lornshill Academy
|
Send to friend
May 31 2010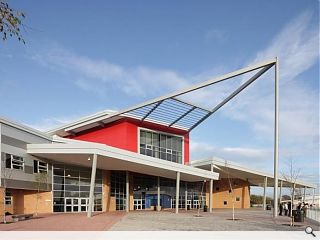 Clackmannanshire Council have moved the earth for their adolescent charges – literally, as Urban Realm discovered on a visit to Alloa's brand brand new Academy..
Amidst the authorities expansive Public Private Partnership schools replacement programme Lornshill stands apart for the scale of the logistical and engineering challenge presented by the need to keep an outdated 1960's high school fully operational whilst constructing anew. This called upon TGP landscape architects and 3DReid to eat into an adjacent hillside to provide space for an elevated school above the old school, one that met the intended "wow" factor.
This is articulated in a feature entrance wall, designed by Glasgow School of Art, and a dramatic "prow", housing a hi tech library that looks out over the surrounding landscape rather like the deck of a ship. A light projection on the library window was originally planned to accentuate this effect but didn't pan out owing to cost considerations.
Technology oriented the whole school is wireless enabled and stock full of all the latest gear - including interactive whiteboards, fingerprint scanners that can register students, hire books and store nutritional information and a "sound field system" that counters hearing issues for pupils by providing teachers with a belt clip mic that can be picked up by surround sound speakers.
In addition to aiding what pupils need to hear 3DReid have taken account of what they ought not to hear by installing Ecophone ceilings and acoustic seals so that the din from more hands on pursuits such as techie cannot penetrate into adjacent teaching areas.
Other design features including sloping top lockers that prevent accumulation of discarded detritus, wider staircases for improved circulation and expansive pinboard noticeboards – that helpfully hide utilitarian blockwork walls, demonstrate a particular attention to detail
An array of 56 CCTV cameras scan the grounds of the school complex 24hrs a day, though this hasn't stopped a layer of chewing gum accumulating on paving surfaces, though the school stresses that their facilities management team will remove it within a day of request.
Each of Clackmannanshire's schools features a particular bias, in Lornshill's case this takes the form of an exemplary provision of sporting facilities, including numerous playing fields and a running track fronting an amphitheatre of external seating for spectators.
It's a set up which has already impressed Alan Hansson, Lornshill's biggest celebrity pupil, who came for the official opening.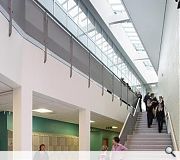 Qualities of space and light were striven for in the design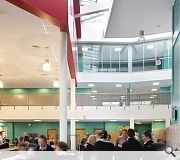 Wings of accommodation radiate out from a central social space
Back to May 2010