RIAS Award to continue for another three years
|
Send to friend
November 19 2004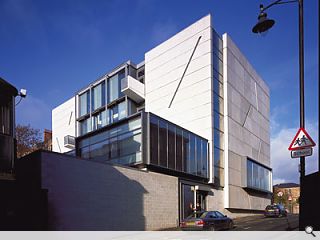 The RIAS Award for Architecture is to continue, after it was announced that the Scottish Executive are to donate £15,000 per year for the next three years towards the prize fund from their Architecture Programme budget. The announcement was made after RIAS President Gordon Murray announced the winner of this year's award – Elder and Cannon's Clavius Building at St Aloysius College in Glasgow – at the Point Hotel on October 28. The Clavius Building beat off competition from Richard Murphy's Eastgate Theatre in Peebles, Gehry's Maggie's Centre in Dundee and Gokay Deveci's Lotte Glob House in Sutherland.
Minister for Tourism, Culture and Sport, Patricia Ferguson, said: "Scottish architects are celebrated both at home and internationally producing work that is both critically and popularly acclaimed. I recently opened a series of events across Marseille celebrating Scotland\'s architecture as part of the 100th anniversary of the Entente Cordiale between Great Britain and France. Our policy on architecture and our new support for the RIAS Award demonstrates our desire to position Scotland as a forward thinking, ambitious country where our most talented architects design buildings that fit in with the city, town or landscape."
The Scottish Parliament building is certain to be a strong contender for next year's award. If it wins, the government's political opponents may raise questions about the legitimacy of government rewarding its' own consultants. The prize will remain the most valuable architectural prize in Britain at £25,000, with the remaining £10,000 to come from the RIAS and a further source.
Back to November 2004