Compost Shed provides fertile ground for this years SDA
|
Send to friend
May 25 2010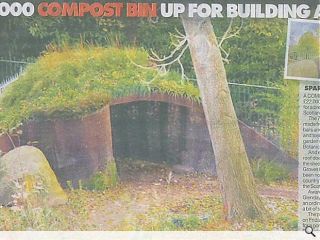 The Daily Record have got into the spirit of the Scottish Design Awards, highlighting how a £22k compost bin has added some "sparkle" to this years bash.
Designed by Nicholas Groves Raines Architects the world's most expensive compost shed weighs in at a hefty £22k, enough to buy 2,200 bog standard bins.
Client Anna Guest remains justifiably proud of the five star wormery however, telling Urban Realm: "We try to make our art as purposeful as possible. It was a really dull corner and I didn't want to carry the tools up every night but I also wanted something to look the part."
Dubbed the countries "architecture Oscars" the event will take place at Glasgow's Crowne Plaza Hotel on Friday, May 28.
Back to May 2010