Aberdeen councilors back city square
May 20 2010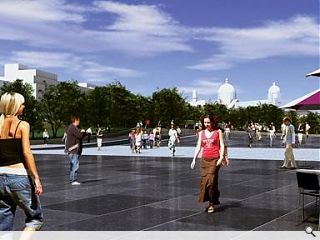 In a surprise move Aberdeen City Council have approved plans for a civic square at Union Terrace Gardens after voting 20-7 in favour of Sir Ian Wood's plans. 12 councilors abstained.
Responding to the news Wood said: "The polarisation on this very important issue has not been healthy for our city and, now that a positive decision has been taken, every effort must be made to take account of the various concerns expressed and ensure that the project proceeds in a way that will have the optimum impact and benefit for the citizens of Aberdeen."
The news was less well received by Peacock Visual Arts however who accused the Council of "ignoring" the people of Aberdeen, a reference to the public consultation in which 55% of respondents were ill disposed toward the plans.
Peacock describes the centre's future as "precarious" and will hold a board meeting today to discuss their next move.
For their part the council hopes that a "compromise" can be reached to ensure both schemes are included in a design competition.
Back to May 2010