Graeme Massie discusses his 'Black' and 'White' expo homes
|
Send to friend
May 18 2010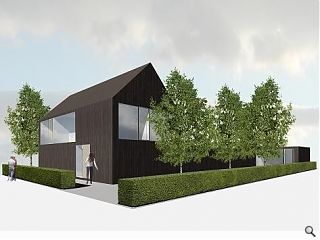 Graeme Massie discusses his practices Black House and White House designs for Scotland's Housing Expo, telling Urban Realm that the schemes are designed to develop a spatial language appropriate to the Highlands in the 21st century.


How easy/difficult has it been to marry profitability to low energy design?
I think the only people who can answer this question would be the Highland Housing Association. From our point of view, it would be fair to say that although some of the 'bolt on' elements (such as ground source heat pumps, biomass boilers etc) have been removed from the scheme for cost reasons the structure and fabric of the building has remained intact. This therefore puts pressure on making the building envelope work hard to achieve a low energy design, which I believe should always be the starting point in any case.
Has the Highland landscape informed your design?
There are obvious correlations between the two houses and the traditional buildings of the Highlands, eg. both are designed as strong forms with no superfluous detailing, the white sprayed coating of Plot 16 has a visual relationship with traditional white-washing techniques; however both houses use advanced construction technologies which ensures they are very much of the twenty-first century. Within both houses one wall of each room is effectively removed, and infilled with openable glazed screens, to ensure that no matter where you are within the houses there is a strong presence of the landscape outside.
Would a site closer to Inverness centre have been preferable?
In terms of sustainable development, then a city centre site would have obvious advantages, such as less reliance on the car as the principle means of transport, potential brownfield development etc, however the chosen site will demonstrate that suburban development can be significantly better than what is typically on offer from the mass housebuilders.
Is the home designed to be clustered linearly, on a grid?
While all houses at the expo are meant to act as prototypes for potential repetition, they are also designed in response to a brief and a masterplan document with design codes. As such they must also be seen as specific to this development. The uniformity of most suburban development lies as much with the masterplanning of the sites, as with the repetitive nature of 'detached' (often only a metre apart) and semi-detached houses with minimal front and back gardens. To simply take one of these layouts and inhabit with our house types wouldn't be acceptable. The site layout and the house types both need to be addressed together to help achieve a sense of community and place.
What technologies, features have been employed to distinguish the property from a volume build?
Both houses investigate the structural potential of solid timber construction, externally insulated with a sprayed, and as such seamless, resin based waterproof coating to all walls and roofs. In plot 16 (the white house), bedrooms are located on the ground floor to create a rigid base, while on the upper level the structural capability of the solid timber allows the creation of an open plan 'loft' space (kitchen, dining, living areas) below the asymmetrically pitched roof planes. In plot 21 (the black house) a more conventional arrangement of rooms, living areas below/bedrooms above, allows one wall of the upper level to act as a large beam over a 13m wide glazed opening to the living areas below.
What measures have been taken to ensure the home is practical and liveable for an ordinary family?
Both houses have generous space standards, and minimal circulation, making all rooms easily inhabited. Similarly both houses have large open plan kitchen, dining, living areas which are ideally suited to families. One other important aspect of the designs has been the aim to establish a strong connection between the houses interior and exterior spaces; this serves to both enhance the quality of the rooms (light, views, etc.) while also allowing inhabitants to enjoy, and readily access, private outdoor space.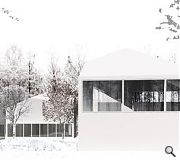 New construction technologies have been developed to build this 'suburban loft'
Back to May 2010