Visions for new capital tram stops unveiled
December 17 2004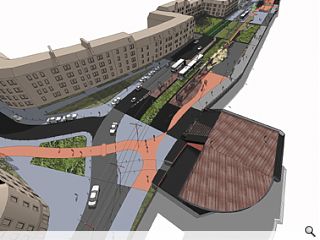 The RIAS's 'Tramspotting' conference at Ocean Terminal on November 26 examined development opportunities along the proposed three new tram routes in Edinburgh.
Four architectural practices presented ideas for tram stops, each in a different part of the city. Arcade Architects looked at creating a new public plaza around a stop near Crewe Toll in the north of the city, Zone Architects had visions for Wardie Bay waterfront, Anderson Bell Christie looked at how to use the vacant land around the proposed stop in suburban Saughton, and Smith Scott Mullan looked at a more urban site nearer the centre of the city on Leith Walk.
The trams will be largely funded by the creation of a congestion charge, which will begin in 2006 if the go-ahead is given. A public referendum on congestion charging will take place in February.
Back to December 2004