Birmingham towers over regional rivals
|
Send to friend
April 26 2010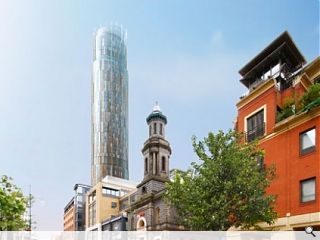 Birmingham City Council has given their unanimous approval to the UK's tallest tower outwith the capital.
Developed by Regal Property Group the £125m tower, dubbed Regal Tower, has been designed by architects Aedas and will rise to 200m above the city's Broad Street – if built.
Birmingham disregarded the objections of Cabe in making their decision after the government's architecture watchdog criticised the height, façade and public realm of the scheme.
Aedas retorted that Cabes objections were "subjective" and noted that there was no tall building expertise on the panel but have nonetheless tinkered with the cladding, colour palette and public realm.
Standing proud at 56 storeys the tower would accommodate a 289 bed hotel, 256 serviced apartments and a three floors of penthouses within the crown.
A parade of boutique shops would anchor the development which includes a public skybar on the 30th floor, sporting panoramic vistas of the Brum skyline.
Back to April 2010