Fuksas wins Central Salford international competition
December 17 2004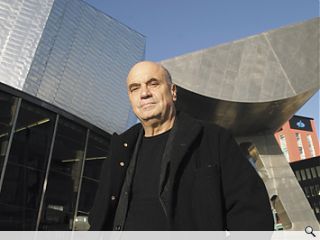 Italian starchitect Massimiliano Fuksas is to masterplan the regeneration of Salford city centre as part of a consortium led by Locum Destination Consulting. Fuksas, whose recent work includes the Eindhoven city centre masterplan, the new Italian Congress Centre in Rome and the International Trade Centre in Shanghai, will set up an office in Salford especially for the job.
The twenty-year scheme aims to transform Central Salford, guided by a new vision and regeneration framework. Plans include the development of business premises, mixed-tenure housing, improved schools, open spaces, new community and leisure facilities, retail outlets and an improved transport infrastructure. The scheme is expected to unlock hundreds of millions of pounds of private sector investment creating thousands of new jobs.
The winning team was selected following feedback from a public exhibition, held at Salford Quays and consideration by a judging panel of regeneration specialists and local representatives, chaired by Felicity Goodey CBE. "The winning consortia have not only demonstrated that they have the experience, ability and creativity that we are looking for but they also understand Salford's existing strengths and assets and how to build on them," said Goodey.
The Central Salford Shadow Board has been established to take the proposals forward. Proposals are also being developed to establish an Urban Regeneration Company (URC) in Central Salford funded by Salford City Council, English Partnerships and the North West Regional Development Agency. Creation of a URC will attract substantial sums of private investment and a decision is expected later this year.
The winning team will work on the vision and regeneration framework for the area with the local communities over the winter and spring of 2005.
Back to December 2004