Stockton bridge takes pedestrians to infinity and beyond
February 11 2010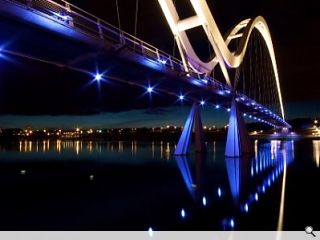 A sculptural footbridge has taken pride of place in the regeneration of Stockton on Tees
Providing pedestrian access between north and south shores of the river Tees the slender bowstring bridge, designed by Expedition Engineering, cuts a distinctive silhouette.
A 230m long concrete walkway is supported by a pair of asymmetric steel arches, intended to mimic a pebble skimming water.
This effect is accentuated by night with lighting designed in such a way as to reflect the twin arches in water, forming the mathematical symbol for infinity (
∞
).
Created by Speirs and Major Associates the system employs blue and white LEDS embedded in the handrails. These respond to movement guiding passage along the walkway and signaling oncomers.
Photographs taken by James Newton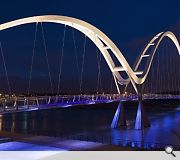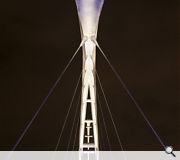 Lighting shifts from blue to white in the presence of people
Back to February 2010