Archial hope to make a splash with Plymouth leisure centre
February 2 2010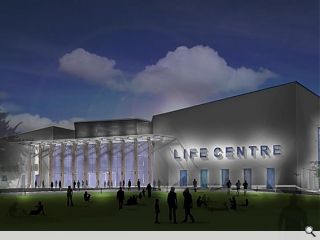 A sod cutting ceremony has taken place at the site of Archial's Plymouth Life Centre, a £46.5m leisure centre.
Incorporating a swimming pool, diving centre and climbing facility, bowling alley, sports hall, fitness suite, dance studio and crèche the centre is intended to become a leading centre of aquatic excellence.
Internally considered use of colour will be used as a navigational aid whilst an open plan layout will afford patrons tantalising glimpses of the range of offered activities, encouraging participation.
Designed as a gateway to Plymouth's Central Park a cafeteria space has been designed to spill over into the recreation area to draw the community together.
Construction work is being undertaken by Balfour Beatty.
Back to February 2010