Gonzalez attempts to break Union Terrace impasse
January 19 2010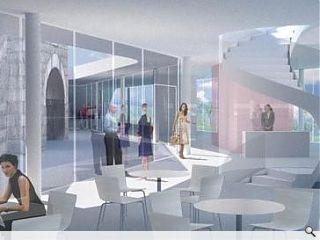 Architect Edgar Gonzalez of Brisac Gonzalez has traveled to Aberdeen in a bid to find potential middle ground in the ongoing struggle between Peacock Visual Arts and Aberdeen City and Shire Economic Future (Acsef) to acquire development rights to the city's Union Terrace Gardens.
Acsef are presently engaged in a public consultation over their plans for a civic square, part bankrolled by Sir Ian Wood, on the site which has thrown rival plans for a visual art centre into jeopardy.
Part bank rolled by Sir Ian Wood and master planned by Halliday Fraser Munro (HFM) the Square scheme would see the entirety of the valley, including land needed by Peacock Visual Arts, decked over to provide a level public space.
Keen to avoid this eventuality Gonzalez have come up with a range of "elegant" alternative models for the site which would leave the existing gardens intact with only a partial decking of the existing road and rail lines.
This would give Wood his coveted square and allow Peacock to proceed with their own plans.
HFM had looked at a partially covered garden in their feasibility studies but Acsef have opted to pursue the fully covered scheme.
Back to January 2010