Strathclyde University Principal Seas the future
December 14 2009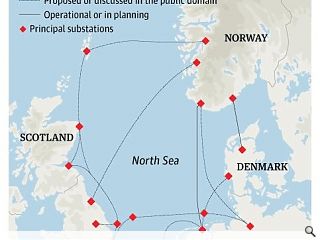 The North Sea could play host to the "next oil industry" according to Professor Jim McDonald, principal of Strathclyde University.
McDonald believes that by tapping the power of the sea with an ocean grid could meet the entirety of Scotland's electricity needs.
The Professor, who also co-chairs the Energy Advisory Board, believes that technology is now mature enough to deliver an offshore wind and wave energy grid.
High level backing for this ambition is on hand in the shape of Alex Salmond who has pushed the idea to continental leaders who could share in the costs and benefits of such a venture.
Hurdles remain however, notably the expense of installing deep water infrastructure which will require an investment push comparable in scale to the pursuit of oil in the seventies.
Back to December 2009