NuFormer light the way ahead
December 9 2009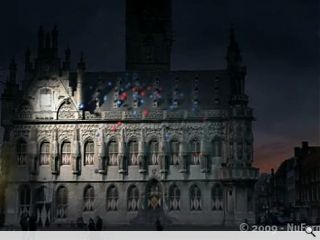 3D is all the rage at the moment with Avatar set to pop out of our screens later this month. Going one better however are NuFormer Digital Media who bring a fresh perspective on lighting.
Eschewing staid static programs or mundane colour cycles NuFormer have set alight the tired medium with images that literally jump right out at you.
The Dutch based outfit deploy a battery of powerful projectors to fit custom made 3d video maps to fit any specific building.
This process opens up all sorts of spectacular creative opportunities from balls bouncing from roofs, fireworks leaping off, ghostly shimmers, warping stars … if you can imagine it you can create it.
Projection on Buildings from NuFormer Digital Media on Vimeo.
Back to December 2009