Stephen Miles wins Bearsden consent
Send to friend
* Required fields
|
Send to friend
November 19 2009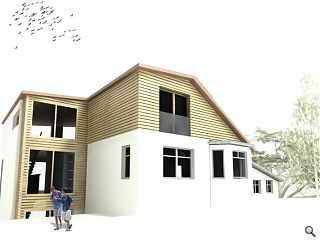 Stephen Miles architects in collaboration with Jonathan McQuillan of anderson bell + christie architects have been granted planning permission for a three storey extension in Bearsden for a private client.
The original property, a 1900's bungalow shall be extended at the rear, creating a significant new living space at the lower ground floor, a sunroom at the ground floor and an inhabited roof space with a concealed roof terrace looking towards the Campsies from the rear, and addressing the street with a Juliet style balcony.
The design incorporates a number of bespoke tri-fold timber doors and timber windows and utilises timber cladding to both the front and rear of the property. The gable book end shall be rendered with feature strip windows revealing the single flight timber stairs behind. A feature chimney and fireplace shall rise through all three stories and provide and external fireplace to the roof terrace at the upper floor.
The project shall be submitted for building warrant early next year, with hopes to be completed late summer 2010.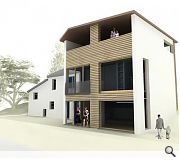 A feature chimmney rises the full height of the building to provide a fireplace for the rooftop terrace
Back to November 2009