Ministers put Forth crossing plans
Send to friend
* Required fields
|
Send to friend
November 17 2009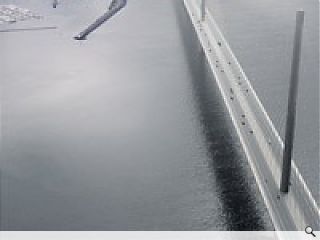 Legislation to build the new Forth Road Bridge has been unveiled by Scottish Ministers amidst an ongoing funding row with Westminster.
Valued at £2bn the crossing is needed to replace the existing structure, after concerns were raised over its long term viability. However the chasm between Edinburgh and London may prove a harder bridge to hurdle.
Opposition parties have criticised the bill for failing to state how the crossing would be paid for. Finance would be provided by capital budgets – after a request to borrow from future budgets was denied.
Friends of the Earth claim a new bridge is unnecessary and have costed repair work to the existing crossing at £122m.
Ministers state construction could begin by 2011 for a 2016 opening.
Back to November 2009