Holy Vinoly Rafael unveils grand Abu Dhabi plans
Send to friend
* Required fields
|
Send to friend
November 6 2009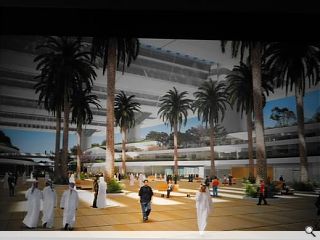 In a key note address to the World Architecture Festival architect Rafael Vinoly revealed his spectacular plans for the New York University campus which is planned for the Abu Dhabi desert.
The massive complex will seek to be environmentally responsible in terms of power, water and food-production. It will be constructed on three levels; the university itself at ground level will be covered by a substantial farm, where students will be obliged to grow some of their own food.
Capping it will be a canopy designed to offer shade from the intense sun and provide the student accommodation. It will also support a 91,000 m2 of photo voltaic cells which will provide over 80% of the required power to run a desalination plant to provide water for drinking and irrigation.
Said Vinoly, "Despite the fact that there is no context, this development is in context."
He added, that with the intensity of the desert sun, the campus will enjoy the light levels of New York, despite being covered by a vast canopy.
Back to November 2009