Wilsons Weekly Wrap Menie are called few are chosen
Send to friend
* Required fields
|
Send to friend
November 5 2009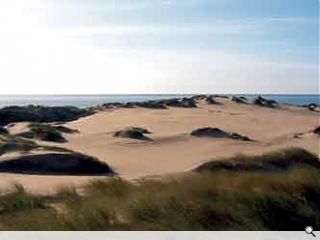 Menie are called, few are chosen
I confess my ears pricked up when I heard on the news that a huge mammal had washed up on Balmedie Beach in Aberdeenshire, but it turned out the Beeb was referring to another type of cetacean that uses a blowhole on top of its head to breathe through. Sadly, the poor creature died, probably in protest at the imminent transformation of the unique sand dune environment into a golf course. Which takes us swiftly to Formartine where, as widely predicted, the area planning committee eagerly lined up to touch Don Combleone's trailing forelock in the hope that it would bring them some personal good fortune as well as a fleeting moment of world attention on their small part of Scotland. Within 24 hours of their giving his project the green light, media reports tell us that the Donald's boys on the ground had set the diggers in motion to create "the world's greatest golf course," an audacious statement we'll return to in a moment.
First though, never let it be said that our hero and his first-born don't have genuine Scottish roots because, boy, can these guys hold grudges. Not content with planning approval being delivered as promised, Trump Minor felt a compelling urge to trash those who have legitimately opposed his dad's project with some pathetic and fairly childish remarks about them now being able to return to their sandpits. It's well known, of course, that Trump pere employs a distinctive double-fisted grip when getting himself out of difficult bunkers, but Trump fils' remarkable one-handed play with a small niblick is a continuing wonder to us all and we look forward to more such performances.
The one thing that has always puzzled me about this project, though, has been the notion – widely accepted by Trump supporters such as Jack Perry, boss of Scottish Enterprise - that the golf course proposed at Menie will substantially transcend the qualities of any that already exist. Let's face it - Scotland has literally hundreds of courses, with at least five considered to be world class and on the R & A's rota for the Open, so it was with mild interest that I read the somewhat sceptical article about Trump's plans by golf correspondent Martin Dempster that was tucked into the back pages of Tuesday's Scotsman.
As Martin rightly points out, this is not the only recent golf development in Scotland of serious quality and the future of the game here is not going to be affected or shaped by whether or not the country has a course within its shores bearing the name of Donald Trump. He lists a number of new and apparently excellent courses such as Castle Stuart on the Moray coast and whilst acknowledging the spectacular nature of the dunes at Balmedie, questions whether any course there will prove to be better that the likes of Royal Aberdeen, Murcar Links or Cruden Bay. Whilst none of these examples are golf resorts, Gleneagles, Loch Lomond and Turnberry do stand out in this category and Martin questions what exactly Don Combleone intends to deliver that will so substantially distinguish his project from these gems. The answer of course is the attached new town, its own uniqueness being that it is the only one of many (Menie?) currently mooted for development in Scotland that is not by one of the Prince of Wales' acolytes.
Caithness Capers
Which segues us neatly to John O'Groats, where the local office of Highlands and Islands Enterprise has commissioned Winchester-based Classicist Robert Adam to provide one of Scotland's best known but cruddiest tourist destinations with what Woody Allan once memorably characterised as 'a certain intrinsic otherness'. Attentive Wrap readers will recall my mention some months ago of the consultation for this project, a 12-week process aimed at "maximising the tourist and visitor experience and also to provide positive local impacts." The net result seems to be more of a retail environment with a much-enlarged car park than a genuine northern oasis.
But – wait – Nigel Gilkison, one of Adam's associates has explained the practice's vision as one that seeks to "create an environmentally, socially and economically, sustainable community with a distinct local identity and a compact urban form." Having used up almost all of the current tick-box terms in one sentence, he fired in a few more clichés with "this approach will provide a safe, sheltered, secure and accessible community which is looking to the future but is well connected to its past." Now, far be it from me to say, but it's not easy to connect these worthy statements with the practice's drawings for the project and, perhaps realising this, Nigel goes on to tell us that the layout is based upon the "urban precedent of the Scottish coastal village" and that "in order to create an authentic identity to the regeneration of John O'Groats, new buildings within the masterplan will reference local vernacular building forms and use locally available traditional building materials."
That'll be why the existing grotty hotel appears now to be matched by a steroidally-enhanced partner on the opposite side of the small harbour together with many other twee urban affectations. But perhaps we shouldn't (or daren't) be too critical of Adam's proposed cul-de-sac-sur-mer because it's just one small part of the New Urbanism phenomenon that is currently sweeping all before it in Scotland and which, even if you weren't previously aware of the term, you're buying into big-style.
From Mey to Miami – the road is not entirely straight
John O'Groats is of course a mere six miles east of the Castle of Mey, once the northern home of the Prince of Wails' grandmother and where he is known to have spent a fair bit of time in the past (sic). The castle is now run by a charitable trust, but its place in the evolution of this story merits as much mention as Balmoral, his mum's holiday home in Aberdeenshire and the place where the Duke of Rothesay (to use his Scottish title) spends a few weeks each summer. The area around the estate has become something of a focus for the work of his Foundation for the Built Environment, what with five small towns (Ellon, Ballater, Cove, Nairn and Castletown) in the near vicinity being subject to its "Enquiry by Design" process. In each of these cases, the 'consultation' process and the architects /New Urbanists involved - usually Urban Design Associates of Pittsburgh, USA - have been paid for by Scotia Homes.
Whilst some disquiet is now emerging (actually quite a lot, if the evidence of a two page investigation in Wednesday's Times is anything to go by) about the relationship between the PoW Foundation's activities in these places and the unexpectedly large scale of Scotia's subsequent planning applications for housing developments, these are by no means the only towns under assault by the New Jesuits (sorry, Urbanists). Aside from Tornagrain, the 10000 home community being fronted by Moray Estates and the result of a design charette led by Andres Duany, founder of the Congress of New Urbanism (CNU), Knockroon in Ayrshire (to be built on land adjacent to Dumfries House, bought by Prince Charles and chums and subsequently put into a trust intended to generate part of its income from the new housing development being mooted) has involved the hand of Douglas Duany, the guru's landscape architect brother.
All of this seems fine and dandy until we get to the Scottish Sustainable Communities Initiative (SSCI) for which 11 projects were selected in June of this year. Of these, three might charitably be said to have been less well developed in concept than the others and – surprise, surprise – Andres Duany has been wheeled in by the Scottish Government's Director of Planning, Jim McKinnon, who has been quoted as describing Duany as "the Tiger Woods of urban design" to bring them up to speed. Trouble is, the three communities have not only been more or less obliged to dump their existing design teams, but have been similarly put upon to stump up the many tens of thousands of pound required to fly Duany and his team over from Miami for a week in March 2010 to carry out the obligatory charettes. Duany, naturally, is delighted – after all, he hasn't had to compete for the work or negotiate his fees – but given the nature of the projects and the length of time being spent on community engagement in the other townships, there does seem to be an unseemly rush to deliver results on the three in question (Ladyfield in Dumfries; Grandhome and Whitestripes in Aberdeen; and Lochgelly in Fife). At a time when so many Scottish architects are unemployed, you have to wonder why so much civil service energy is being put into securing the engagement of US companies. But then, if the Director of Planning is to speak as intended at the Congress for New Urbanism in Atlanta next May, he will need some current Scottish material to talk about and the other projects will take too long to deliver anything. Yes folks, as far as planning in Scotland is concerned, New Urbanism is pretty much the only game in town, the New Jesuits the only players.
No prizes for the Lighthouse
You have to laugh really, for, having withdrawn all financial support from the Lighthouse Trust (a wise move, given that its Board had over the past several years comprehensively failed to come up with anything that might remotely be described as a plan to put Scotland's Centre for Architecture, Design and the City on a sound financial footing), Glasgow City Council, as owner of the Mitchell Lane edifice, is now proposing to run the place itself. Quite how it plans to do this – given its manifest lack of any architectural or indeed obvious business expertise – will no doubt unfold in the fullness of time but one thing is certain: it will cost the city considerably more to operate the building than the annual grant it previously put into the Trust.
In fact, although the Lighthouse always maintained that the City of Glasgow Council was its only core funder, the 7% of the institution's total budget that came from its George Square masters paled by comparison with Scottish Government and Scottish Enterprise contributions of around 30% each. Given that the latter two public funding sources have now elected to give the Trust a body swerve, it will be interesting to see where the City Council – at a time when all local authorities are under severe pressure to reduce their expenditure – will conjure up the money from. Sure, it won't need to employ a staff of nearly 70, but it will have to spend real dosh transforming the building into a more useable arrangement of spaces if it is to operate as "an architectural and business centre."
The second part of this intriguing phrase suggests the era of woolly-thinking. Glasgow-style, has not yet completely passed and that yet another variant on the "business incubation" model is about to be employed, thereby allowing further public funds to be siphoned into the building. As for the architecture part: I wouldn't be at all surprised if what remains of the facility becomes yet another part of the empire of public galleries and museums the Council operates and endlessly complains that it gets no Scottish Government funding to maintain. Absorbing something that is ostensibly a national institution into its capacious fold would lend some notional (sic) weight to its argument that its galleries are national facilities and therefore deserving of state funding but – and I may be entirely wrong in this - somehow I don't think that possibility will form part of Culture Minster Mike Russell's speech when he presents the Saltire Awards in the building next week.
Illuminating archive
Not quite the same subject, but certainly every bit as toxic is the latest competition (sorry, "competitive interview") to come out of the RIAS' bunker in Edinburgh's Rutland Square. Quite what was in the minds of its leaders when they decided to lend the Incorporation's name to plans to create a National Nuclear Archive at Dounreay is anybody's guess, but hey, it's £15m of quasi-public money going a-begging which, in the crazy world of nuclear budgeting is mere chicken feed and a real boon to our northern construction industry in these gloomy days. Speaking of which - since most of the exhibits will glow in the dark - there surely won't be any need for a lighting designer on the team, meaning more fees for everyone else. I have to confess though that what really got the green lights going on my radar this time was the requirement for the appointed architect to provide advice on "best practice." Just imagine, "bad idea, don't do it," could be the key piece of advice to ensure that this turns out to be the one project in the history of the UK nuclear industry to come in anywhere close to its purported budget.
Murphy's Low
It's been a bit of a week for Richard Murphy, what with his practice partying in celebration of its 18th birthday last Friday and the news that his carefully-knitted scheme for Haymarket had completely unravelled in the hands of the Planning Reporter tasked with running the Inquiry into the project To make matters worse, Lord McCluskey, the former judge and Solicitor general of Scotland gave our hero the kind of toasting in the pages of the Scotsman that entirely disproves the notion that all publicity is good publicity. Certainly, Richard's lack of humility over his plans and his subsequent and widely-publicised ire at the knock-back of his project wasn't likely to make him many friends, especially as he seemed determined to confuse the objectives of the developers, the City Council and their friendly flunkies in the Chamber of Commerce with the interests of the actual city itself. Sorry Richard, but "for once Edinburgh is on my side" doesn't quite sit on the side of accuracy.
The various business interests in town have also been beside themselves at the thought of the site continuing to remain undeveloped and have generally prostrated themselves in front of the Irish developers in the hope that they won't withdraw completely. This seems unlikely: they got the land for a song after all and are unlikely to find a more complicit planning department anywhere else in the UK. Trouble is, trust with the public has pretty much broken down on this one and small variations on the previous plans are unlikely to cut the mustard. It does, however, give Richard a second chance to show that he hasn't entirely lost it and that he can, when pushed, still produce intelligent architecture.
And finally…
RMJM's endeavours to take over the empire – the former Soviet empire - continue apace, with the announcement of the opening of its third office in Russia. It has to be said that its existing studios in Moscow and St Petersburg seem a bit passé when set against the new location, Vladivostok, which, for those of you without an atlas to hand, is just about as far as you can get from anywhere. But no - apparently V is the happening place, for according to the exquisitely named Russian chairman of RMJM, Dr Vladimir Kvint, the Primorsky region of Siberia (of which Vladivostok is the capital) is going to be propelled onto the international stage, indeed put back on the map, with such groundbreaking projects as a new casino and two $250m hotels, all to be built in time for the Asia-Pacific Economic Co-operation (Apec) summit to be held there in 2012.
Whilst this event will surely put a real dampener on the London Olympics, it's nevertheless an exciting time for the 20 RMJM employees who will be beavering away in their fingerless gloves in the Vladivostok gulag (Russian for 'studio') and I look forward to further travel accounts from the company's European Design Director, Paul Stallan, in the pages of Urban Realm (nee´ Prospect). No doubt Paul will enlighten us as to the Anglo Saxon translation of 'Kvint', although I am slightly fearful it will turn out merely to be a generic term used by RMJM employees for all their directors. It could of course mean 'Alsop', but I'm reliably informed this is just the same thing.
Back to November 2009