Collective's weather station brings Castlemilk together
|
Send to friend
October 21 2009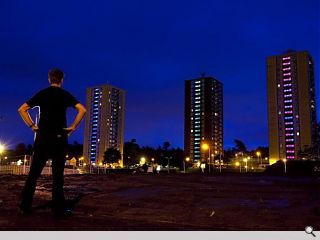 Light work has been made of three Glasgow tower blocks with splashes of colour now illuminating Castlemilk's Dougrie Place estate in what also doubles as a weather station.
LED lights installed in the northern stairwells of each tower will glow at night to create a beacon visible from across the city, dynamic controls will allow the lights to be manipulated in real time to allow an up to the minute reflection of next days weather forecast.
Designed by Castlemilk Tenants Housing Association with collaboration from GHA and Collective Architecture, the system was installed by Northern Light.
Three LED battens were installed per floor in the three 20 storey blocks with a PC, lighting controller and broadband internet connection to allow for a constantly updated visual weather forecast by documenting temperature, rainfall and cloud cover.
The system is flexible enough to demonstrate a variety of moving colours and patterns to celebrate key city events.
An official unveiling will take place on November 1.
Back to October 2009