Rubble Club awards loom
|
Send to friend
October 12 2009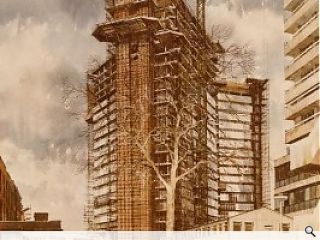 The Rubble Club, the organisation for architects who have had a building demolished in their own lifetime, is on the brink of announcing its first annual award to commemorate The Best Demolished Building.
Its website –
www.rubbleclub.com
– has been buzzing as members of the public vote on a shortlist which includes a wide range of schemes from brutalist mega structures to Lego houses.
Lego houses? Yes, it looks like TV presenter James May, could cause a major architectural upset by scooping the coveted trophy – which takes the form of an every expense spared half - brick. For the building he constructed out of Lego – and spent the night in - as part of a TV series, is in the running, after it was unexpectedly demolished after a landowner decided he needed the site back.
However, more conventional, but equally controversial schemes are also in the running like the brutalist Tricorn mega-centre which used to occupy the heart of Portsmouth. Celebrated by the architecture profession, but disliked by the local community, this 60s icon was the work of Owen Luder, also known as the 'Father of British Brutalism'.
Another project doing well is the Southwark Tower at London Bridge, which was recently demolished to make way for The Shard, the UK's highest profile – and just highest – new building.
The results of the very first Rubble Club price will be announced at the Roses Design Awards in Nottingham on October 23rd. In the meantime, the public can vote for the best demolished building at
www.rubbleclub.com
.
Back to October 2009