UAP complete Jeddah 'Beacon'
September 29 2009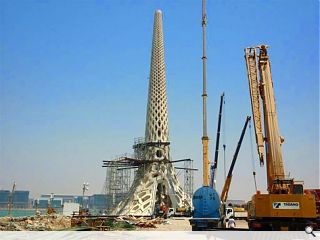 Urban Arts Projects (UAP) has completed a 60m high 'Breakwater Beacon', centrepiece of a $7bn research institution for the King Abdullah University for Science & Technology (KAUST), overlooking the Red Sea in Jeddah, Saudi Arabia.
The Australia based designers have drawn inspiration from Arabic maritime traditions, in-region artwork and architectural detailing to create a modern interpretation of a lighthouse from pre-cast concrete blocks rising out of the sea in an elliptical spire.
Internally an amphitheatre and reflection pond have been created within the dappled shade of the atrium, used as a communal gathering space and has been developed as part of an international arts programme by the university to promote collaboration and exchange.
Back to September 2009