High Speed rail to Scotland still on track
September 25 2009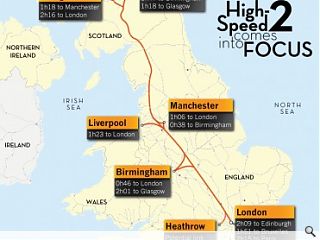 Sir David Rowlands, Chairman of High Speed 2 (HS2), has indicated that plans for a new £34bn high speed rail network will include Glasgow and Edinburgh.
Three strategic corridors are being investigated for the 225mph trains north of the West Midlands, all of which would connect both cities with London.
Fears had been raised previously that the line would fall short of Scotland but Rowlands stated: "We will not produce a network configuration that excludes Scotland".
Critically any link which favours one city to the detriment of the other will be excluded, both cities will be treated equally.
Proponents of the scheme, believe there is a strong economic and environmental case for high speed rail as a tool for both fostering regional links and discouraging short haul flights.
Currently a detailed business case is being prepared by HS2 for a line to the West Midlands, which may commence by the end of the next decade. Funding for any future extension to the central belt would need to be addressed by both UK and Scottish parliaments and would take the better part of a generation to complete.
Back to September 2009