Anniversary celebrations honour the Forth Road Bridge
September 1 2009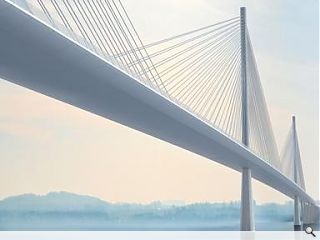 With the 45th anniversary of the Forth Road Bridge's construction fast approaching those who helped to construct the engineering feat have shared some of their memories of the structure.
An open week will take place at the end of October with a public exhibition on the history of the site and guided tours also on offer.
Opened on September 4, 1969 by the Queen and Duke of Edinburgh on a fog laden day so thick that ceremonial ships in the Forth below could not be detected, but for the reverberations of battleship guns being fired.
Health and Safety was less of a consideration then than today's 'nanny state' and one off duty policeman took full advantage of lax authority to traverse the cable walkway sans helmet and harness.
It wasn't all fun and frolic on the day however as authorities fretted over the action of hundreds of thronging sightseers trooping across the bridge, in concern of perhaps surprising prescience following the Millennium Bridge fiasco, closing the crossing shortly thereafter to the disgruntlement of those stranded on opposing banks.
The crossing is likely to see one way traffic only from 2016, when a new vehicular crossing is opened alongside, this follows news that the cable stayed bridge is deteriorating less rapidly than previously thought, giving it life for at least another 45 years.
Back to September 2009