Linked together
August 7 2009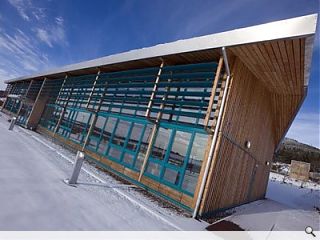 A shared campus for Scotland's Environmental and Rural Services has been formally opened at Golspie Business Park in the Highlands by Roseanna Cunningham.
'The Links' will bring together staff from the Forestry Commission, Scottish Natural Heritage and the Scottish Government's Rural Payments and Inspections Directorate, Highlands and Islands Enterprise and Community Energy Scotland.
It is hoped this cohabitation will engender closer collaboration and efficiencies of service, cutting public sector bureaucracy.
hri architects have utilised locally sourced wood, high grade insulation, low energy lighting and a wood pellet boiler for the £2.7m scheme, bolstering its green credentials.
Back to August 2009