Aberdeen Harbours ambition
August 5 2009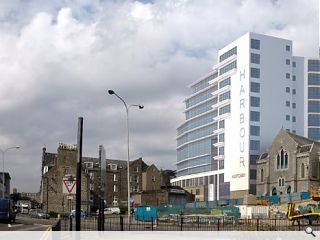 Keppie Design have submitted plans for a mix of office, retail, leisure, hotel and conference facilities to adjoin the Douglas Hotel on backcourts between Market Street and Shiprow at Aberdeen Harbour.
White render depicts an eleven storey corner that is set against a mass of glass, this is articulated horizontally by white brise soleil which also serves to bind both elements. A stepped profile is adopted from the Douglas Hotel, reflecting a rise in topography.
Granite facades along Shiprow will be preserved to ground a tower element into the landscape whilst pedestrian access will be opened up from Union Street to the Harbour area through provision of an access concourse, comprising high quality robust materials and lightwells of projecting windows and reflective cladding to ensure penetration of natural daylight.
Back to August 2009