Glasgow – the growth of a city
July 31 2009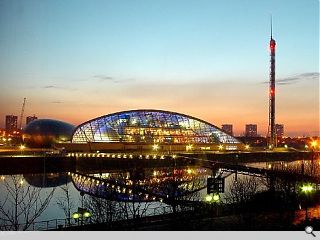 The latest initiative promoting year of homecoming was launched in Glasgow today, Glasgow –the growth of a city, an audio visual stroll through key events in the foundation of "The second city of the Empire".
Nicola Sturgeon took time out from her hectic swine flu schedule to launch the show which documents the history of: "the best city not only in the UK, but the world."
Eschewing boring wall mounted television display the video presentation adopts a floor set projection to communicate the historical development of the eponymous city to a rapt audience.
Though largely gimmickry the 15min display does lend itself well to key historical events, notably a Luftwaffe visit to Clydebank in 1941 where viewers can peer Nostradamus like upon the explosive proceedings below.
Ending as it began the presentation focuses upon the river specifically the fabled ring munching fish of lore, drawing upon the full circle nature of history as the a de-industrialised city supports aquatic life once more.
Interested readers can see the display for themselves at nine George Square from Saturday August first to September thirtieth.
Back to July 2009