Toy boy
July 27 2009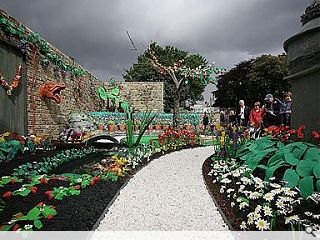 Top Gear presenter James May is to let his hair down this weekend by designing a new house in Surrey - from Lego bricks.
Volunteers are being sought to fashion the gaff, built entirely from the famous Danish blocks, as part of a new goggle box series hosted by Clarkson's third man.
James May's Toy Stories will see construction of a life size two storey house built from three million Lego bricks, fears remain however that even this gargantuan toy box may not be enough to finish the job, leading to an appeal for brick donations from Lego minded members of the public.
Caught short residents will even be able to avail themselves of the on site facilities with May convinced that a flushing Lego lavatory: "is possible". A belief perhaps necessitated by the avuncular TV hosts decision to live in his plastic palace for a few days.
Fortunately gardening won't prove a problem for May as the multi talented presenter has already sculpted a Plasticine lawn from an earlier episode of the zany show.
May isn't the first to hit on the idea of utilising Lego as a building material however, Prospect magazine earlier organised a competition for five leading architects to design and build their own Lego homes. These practices remain on hand to assist in the design if called upon.
Back to July 2009