Selfridges site plight
July 16 2009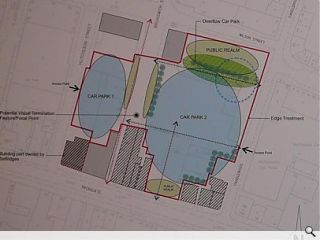 Selfridges first draft proposals for redevelopment of their in hibernation Candleriggs store, penned by ash design + assessment, have been publicised. Store bosses insist the plans are only a temporary measure for the "short to medium term" but were unable to provide specific timescales.
Amongst ideas being contemplated for the combined car park and public space are provision of a temporary market and event space, new pedestrian links, landscaping and an outdoor café. Further revenue raising potential may be explored through advertisement banners on the gable walls of buildings on site.
Public realm would be focussed on the Trongate where buildings, many of them listed, will be retained however an existing gap site will act as a main thoroughfare into the area by connecting through to a secondary space opposite Merchant Square which could potentially feature a stretched material structure as a corner feature.
Parking areas would be screened by semi mature trees and Selfridges are in talks with the Merchant City Initiative to use reclaimed stonework and railings to define the site boundary.
Some locals in attendance commented that the plans amounted to little more than a traffic island and questioned the need for such an expanse of parking, requesting that provision for cycle stands be made and believing that the plans in their current form did not represent a creative use of space, neglecting the primary Candleriggs frontage. These and other views will be considered prior to the submission of a formal planning application.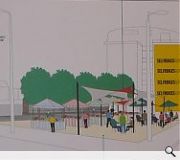 Back to July 2009