Heavy Metal Mouth opens
July 7 2009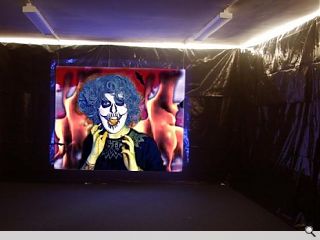 Polarcap, in association with Hyperground, have teamed up with a group of artists to transform a former DHS office into a Heavy Metal exhibition by artists, many of whom used the offices to sign on. This is their revenge.
Thirteen artists were invited to deck out the space in a contemporary Heavy Metal culture theme in response to a gauntlet thrown from participating artist Norman Shaw: "Heavy metal culture represents an attitude which is not generally connected with fine art. Yet from cock-rock to black metal, it is an extremely nuanced, contradictory, and complex organism, mutated on currents of northern romanticism, sublime melancholy, gothic horror, expressionism, fin-de-siècle occultism, surrealist eroticism, and existential doom. From extreme violence to delicate sensitivity, from complexity to minimalism, it is a kind of anti-art with a unique identity; misanthropic, tasteless and belligerent. These artists draw new metal ores from distorted rock; alchemists of the blazing northern sky."
Amongst the delights on display are a series of canvasses shaped as guitar bodies, magnetic tape wall pieces outputting one word statements, a DVD projection and a sculpture of Bon Scott, lead singer of AC/DC, carved from rock from his home town of Kirriemuir.
Heavy Metal Mouth is open from 27 Jun - 12 Jul, Thurs - Sun, 12 - 6pm at Torpichan St, Edinburgh.
Back to July 2009